MomentCam Cartoons & Stickers
Emoticon Maker – Create Caricatures Using Your Face
Do you want to find out how your face would look if it was a cartoon? Are you interested in creating an avatar using your own photos? If yes, then you should give this emoticon maker a try. MomentCam Cartoons & Stickers is a cool app which allows you to turn your photos into cartoons and emoticons and customize them as you like. It lets you create stickers with your own avatars and share them with others. You are offered the chance to make use of a variety of editing tools to personalize the avatars and make them look just like you. There are various designs on offer as well for placing your avatars and creating the perfect emoticon. You are also given the chance to create stickers using your avatars.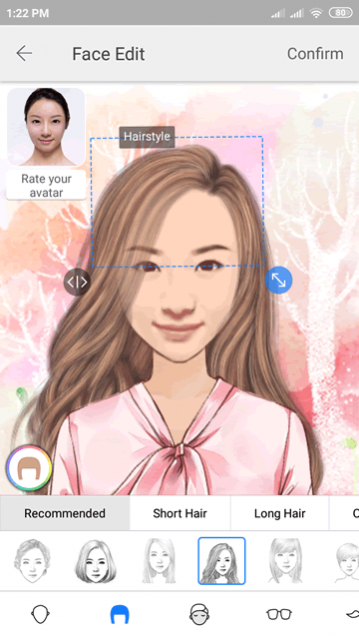 MomentCam Cartoons & Stickers has an intuitive user interface which meshes perfectly with its user-friendly design and layout. The combination of these features makes this emoticon maker easy to use even for novices. You just have to click a selfie using the front camera of your phone or choose a photo from your phone's gallery. When taking a selfie, make sure that you face fits into the template provided to you. The app will let you adjust the placement of the photo so that it can be accurately converted into a cartoon. After you are satisfied with the photo's placement, you will be asked to select the gender and the age of the person. Within a few seconds, this app will convert your photo into a cartoon character.
This emoticon maker lets you edit your avatar. There are various face editing tools provided to you that can help you in giving your avatar the look you want. You can change its hairstyle from the variety of options located at the base of the screen in the hairstyle section. Moreover, you can make changes to the skin color, eyes and eyebrows too. There are various accessories that you can place on the avatar as well to make it look just like you. If you want to give your avatar an expression, you can do that by choosing one from the facial expression menu. You can also send the app developers suggestions regarding new editing tools and options. This option is located at the end of the menu of each editing tool.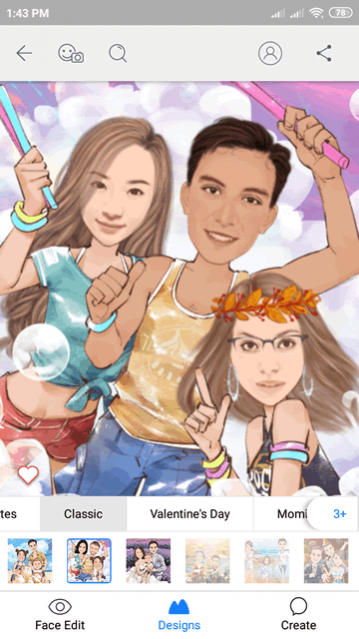 MomentCam Cartoons & Stickers doesn't just let you create and customize your avatars. It also lets you place them inside a variety of background designs. These designs allow you to see your avatars in a lot of different situations. Most of the designs are available for free but some of them need to be bought before they can be used. Once you have selected the ideal background for your avatar, you can use it as an emoticon or for creating stickers. There is a Create section provided to you in this emoticon maker. You can use various editing tools in this section to create animated emoticons and stickers. There is even an option available to add text to personalize the stickers you create.
Features:
Intuitive user interface
User-friendly design and layout
Transform your photos into caricatures
Customize the avatars as per your wishes
Lots of face editing tools on offer
Various background designs available
Create personalized stickers with your avatars
Share your creations with the community
Comment on the posts made by other community members
Buy items with your avatars printed on them
Conclusion:
MomentCam Cartoons & Stickers is an app which will primarily appeal to people who love cartoons and emoticons. It enables them to create cartoons and caricatures using their photos and lets them share their creations with others. It is an emoticon maker worth having on your phone if you want to see how you would look if you were a cartoon.
---
Add a review
Tell us your experience with
MomentCam Cartoons & Stickers
RELATED PROGRAMS
Our Recommendations
---
---
---
---